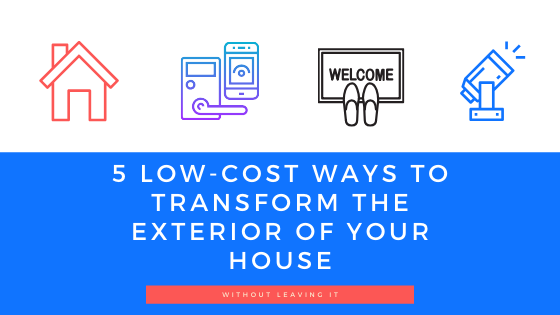 Like most people in Vancouver ( and around the world), you're probably scrambling to figure out how to deal with Coronavirus right now.
While self-isolation and self-quarantine can seem very scary, for many people it simply means staying at home, and doing as much work as possible before the kids distract you for the umpteenth time. 
With so many homeowners staying put in their houses, and with the weather supposed to be sunny as spring is finally on it's way, we thought it would be valuable to create a list of the 5 easiest ways to spruce up the exterior of your home on a budget. Most of these items you can shop for online for without leaving the comfort of quarantine.
Cheerful front doormat: Check out Amazon.ca and find your favourite new doormat to instantly make the entryway to your home feel new and refreshed!
New house numbers:

There are hundreds of sellers on Amazon who are offering an essentially unlimited number of customized door numbers for you to take a look at. Most of these will run you under $50. 

New front door knob: in a similar vein, finding a more modern or chic-looking doorknob for your front door can immediately change the look and feel of your front area. 
Solar-powered landscape lights:

using these, you can highlight different accents of your landscaping or, if you're feeling particularly artsy, you can even experiment with shining them onto different parts of your house!

Exterior painting:

Painting is still the easiest and most effective way of giving your largest asset a refresh without breaking the bank! Protect the wood and siding on your home from the elements.

Did you know you can get the outside of your house painted without ever having to come into contact with a contractor? At freshpaint.ca, we offer free instant online estimates, comprehensive over-the-phone estimates using Zoom or FaceTime, and we'll even come to your house to do measurements from the outside without ever coming in contact with you or your family!
Worried about getting work done right now? Not a problem, lots of businesses have extended their quote validity from the standard 30-days to 90-days to account for the current COVID-19 situation. 
Also, remember that during this time big box stores like Amazon are NOT your only option. Lots of local stores have websites with amazing and hard to find items that are more niche than what you can find in bigger stores. Most local stores are working with buyers to ensure delivery, or pick up of items purchased…and the bonus is you get to help keep the little guys that make up your neighbourhood alive.