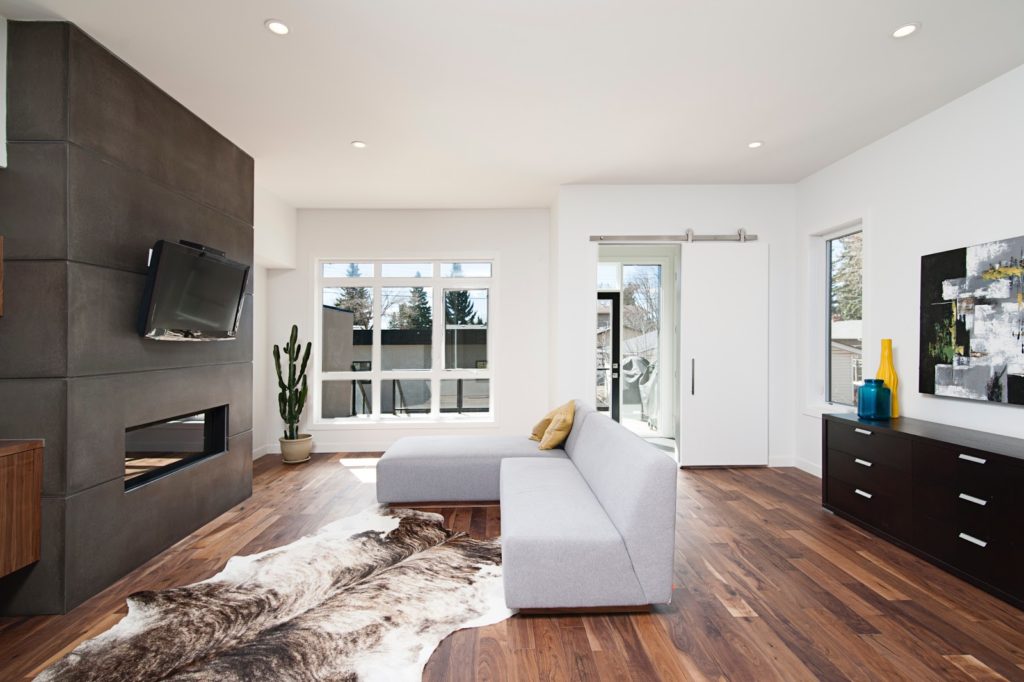 Whether you're looking to put your house on the market soon, you just bought your home, or you're simply ready to start making some changes, home updates can be extremely exciting for homeowners. You finally get the chance to have that deck installed, redo your master bathroom, or change out some old appliances. No matter the reason for your home update, we can all agree that while they can be super rewarding, not every update makes sense. In today's blog, we're going to discuss some of the most valuable home updates this year!
1) New Flooring
If you have outdated flooring, old or destroyed floors, or whole house carpet, you may understand the desire to have your floors redone. Flooring can be one of those things in your home that bring everything together and many potential home buyers take the flooring situation quite seriously when they're browsing homes. Since wood floors, laminate flooring, or vinyl floors are extremely beautiful, easy to clean, and timeless, many homeowners are opting for this particular update when they're making changes and improvements. Experts agree that opting for hardwood or engineered hardwood floors can drastically improve the value of your home, especially if you had carpet previously. Carpet is less and less appealing to homeowners and many folks are going to hardwood throughout their entire home. Consider this update for a gorgeous result that will last for years to come.
2) Modern Appliances
If you've got a beautiful home with appliances that you've had for a decade or more, it might be time to upgrade your fridge, dishwasher, or stove. New appliances can make a world of difference in the aesthetic, function, and money-saving capabilities of your kitchen. Not only do modern appliances help your kitchen look more updated, and make your kitchen so much more convenient, they also can help you save more money on energy bills by using less energy than their predecessors to do their job. If you're looking for a fast and sure way to improve the value and function of your home, consider getting new appliances.
3) Bathroom Update
Many potential home buyers pay special attention to the bathrooms in homes that they tour before buying. An updated bathroom can work wonders when it comes to home improvement and there are so many ways to go about your bathroom project. Consider upgrading your old toilet to a large, water-saving unit so that you'll enjoy comfort and savings. You could also choose to have stone or subway tile installed in your shower or as a backsplash. Nothing says "fancy bathroom" quite like lots of bathroom tile. And if you're looking for more options for your modern bathroom, consider adding granite or marble countertops to add some class to your powder room.
4) Finish the Basement
This might be one of the most expensive updates that we're mentioning, but completing an unfinished basement is one of the best ways to increase the value of your home. The addition of your finished basement will immediately add square footage to your home and potential buyers will love the work that you put in. Though this is a huge undertaking, yourself and your family will enjoy the extra space that your finished basement provides. Consider adding a "mother-in-law suite," additional bedrooms, or a family room. Just remember that if you're losing your home's only significant source of storage space, you'll need to take that into account before you start your project.

5) Landscaping
The addition of landscaping makes a world of difference when you're thinking about your home's curb appeal. Modern and elegant landscaping can add beauty to the outside of your house, and overall value to your home. Consider having some trees planted, adding a flower bed, or adding some greenery in front of your house. Landscaping can add so much to your home, but be warned, if you're wanting to sell and you go too far overboard with your landscaping, it could act as a deterrent to someone who might otherwise consider buying your home. Many potential homebuyers don't want to have to spend hours and hours maintaining the existing landscaping and they also won't want the vegetation to become an eyesore from lack of maintenance.
6) New Paint Job
As one of the biggest returns on your investment, a fresh coat of paint can do some amazing things to transform your space. Paint can make a small room appear larger, a drab room appear bright, a simple room look trendy, and an outdated room look modern. Paint can also take years off of your home by eliminating blemishes, cracks, and handprints; what's not to love about the idea of painting? Our company, Fresh Paint on Demand is Vancouver's best source for quotes from painting contractors in your area. We'll get you options for bids from highly reviewed and excellent local painters.
No matter how you decide to update and modernize your home, remember to make the right decisions that will be the best for yourself and your family. If you're running out of space, refinish your basement, if your curb appeal is lacking, have some landscaping done, and if you're needing a huge home revamp but you're on a tight budget, consider a full-house repaint!
It Pays To Contact the Experts
If you really want to sell your house quickly in a volatile market, it pays to hire the experts! Here is an excellent blog post by Redfin that outlines who you want on your team, including professional painters, real estate agents, home inspectors and more.
When it's time to repaint, let the experts at Fresh Paint on Demand help you out. We'll do the hard work for you so that you can sit back and enjoy your updated home! Contact us today to get started!